What We Do
Walker Engineering have 20 years of experience providing structural engineering steel in Liverpool and around the country. Unlike other companies in the market we can undertake complete project management from design and costing through fabrication and surface treatments to onsite installation and quality control.
Liverpool has a longer history of iron and steel frame constructions than any city in the world. Oriel Chambers on Water Street was the first tall building (1865) built from a load bearing frame of H-section columns and inverted T-section beams, clad with a non-structural glazed façade. It inspired the designs for which New York subsequently became famous. Structural steel fabrication in Liverpool began when its quality improved in the 1880s. Subsequently, the Royal Insurance Building on North John Street (now the Aloft Liverpool Hotel) became the first steel framed building in the UK (1895).
If you require structural steel fabrication in Liverpool or beyond, our two workshops in Skelmersdale have adequate capacity for the majority of projects. Our engineers are highly trained and accredited and our health and safety record is second to none.
Why structural steel?
Modern equipment and scrupulous standardisation have made our structural steel fabrication in Liverpool the fastest and cheapest way to deliver a quality construction material that is easy to assemble, robust and long-lasting in situ.
The advantages over concrete slab construction are enormous. Steel is lighter and stronger, and usually quicker and cheaper too. It permits longer spans, higher rises, better capitalisation of space and more intricate designs. There is no supporting form-work to erect and remove and no delays waiting for concrete to cure. Steel frames are easier to adapt and extend at a later date, require a smaller workforce and have a better health and safety record both in terms of accidents and environmental impacts. Eventually steel can be recycled instead of causing landfill headaches.
State of the art fabrication
We can build parallel flanges, hollow beams, flat sections, L-shape steel angles, open web beams, lattice beams and bespoke compound sections. Structural steel is the ideal solution for most building frames and structures, including staircases, walkways, mezzanines, portal sheds, pipe bridges, lift structures, canopies, gates and fencing.
Because Walker is familiar with the entire project cycle we can deliver a smooth transition from design through fabrication to site installation.
Computer-assisted design
Design and accurate cost estimation is facilitated by the growing sophistication of our 3D CAD and software extensions. Our 3D models link automatically to the relevant information needed to generate accurate cost estimations and proceed directly to materials acquisition and delivery scheduling. Our system allows us to foresee requirements down to small details like the number of bolts needed, ensuring timely delivery and minimum wastage. The model also feeds directly to the equipment in our fabrication workshops, and it is straightforward to provide full design access to the client's site during construction.
Onsite assembly
Our experienced workforce includes personnel with all the skills your structural steel project might require – platers, welders, sprayers, shotblasters, scaffolders, crane operators – as well as additional expertise in things like lift design, electrical services and control panels that your project might also require. We implement scrupulous quality control systems throughout.
Whenever you need structural engineering steel in Liverpool make Walker Engineering your first call.
Projects Include:
Access platforms / mezzanines
Pipe bridges
Staircases
Portal sheds
Lift structures
Strengthening Works
Apartment / Office blocks
Bespoke houses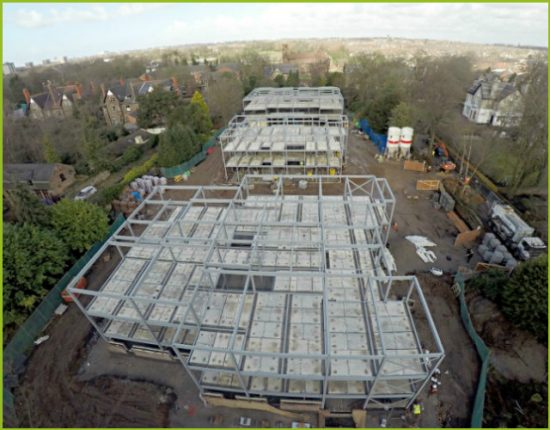 Contact us today on 01695 555 600 for further details